Let's Talk About Inorganic Crystal Material
Aug. 08, 2018
As an important medium for the conversion of light, sound and electricity, inorganic crystal material has been widely used in high-tech fields such as energy, information, aerospace, etc. It is a hot topic and frontier topic in the development of international materials science and engineering disciplines. The crystallization process is preparation. At the core of functional materials, crystallization habits directly affect the optical, electrical, magnetic, catalytic and other functional properties of the material. During the crystallization of inorganic materials, the crystal composition undergoes a phase transition from free state ions to crystalline solids at the microscopic level. The formation and structure evolution of aggregates during crystallization can be studied by means of the electronegativity of crystal constituent ions and the microscopic symmetry of the group.
Molecular vibrational spectroscopy can be used to reveal the formation process of crystallographic structure of nonlinear optical crystal materials in aqueous solution during molecular crystallization. It overcomes the lack of determination of non-long-range ordered structures in traditional in-situ observation methods. Chemical bonds using crystal growth The theory guides the growth practice of bulk crystals from two aspects of thermodynamics and kinetics. The chemical bonding theory of crystal growth is applied to the design of large-scale crystal pulling growth parameters. Optimized and successfully built a large-sized crystal intelligent growth system.
We are quartz materials china factory , if you have any question,please contact us as soon as possible.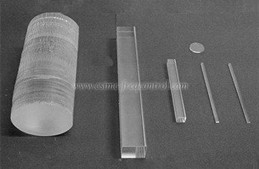 The file can be downloaded