Biosensor Technology Could Put An End To Drunk Driving
Oct. 09, 2018
According to the National Highway Traffic Safety Administration, more than 10,000 people in the United States die each year from alcohol-related crashes. Imagine how a lot of these crashes and deaths can be avoided simply by knowing you've had too much to drink.
Engineers at the University of California in San Diego are working to make this possible with the assistance of biosensor technology. Described as a"biosensor tattoo", their wearable apparatus is able to feel fluctuations in the electrical currents flowing through the perspiration of an individual so as to accurately determine blood-alcohol level. This information is then delivered to the consumer's cell phone, which can alert them if it is not safe to drive.
This technology may sound familiar, that is because measuring a person's alcohol level using sweat has been tried before. Regrettably, it might take up to three hours to get accurate results. With brand new biosensor technologies, this studying takes just 8 minutes--paving the way for practical real-time blood alcohol level tracking and potentially saving thousands of lives in the procedure.
We also supply force transducer and other products, welcome to contact us.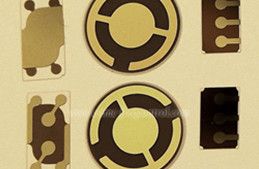 The file can be downloaded